Decision due on Deeside annual bonfire display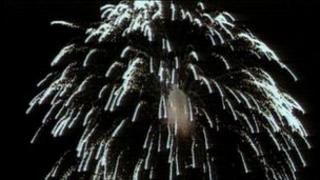 An eleventh-hour attempt to stop an annual bonfire and fireworks display being moved from its 42-year-old home is to be debated by Flintshire council.
The fire service's annual charity event cannot be held at Deeside Leisure Centre because of work being done to replace five-a-side football pitches.
A meeting will be held after Councillor Aaron Shotton called a notice of motion to keep the display at its usual venue.
Flintshire council said it was liaising with the fire service.
The service traditionally organises the event, which last year raised £3,500 for local charities.
This year it plans to hold it at Wepre Park in Connah's Quay, after being told the leisure centre was unsuitable.
A spokeswoman for the service said new artificial turf laid there was also a fire hazard.
She said the display at Wepre Park will include a bonfire only, without the usual fireworks, to "minimise disruption".
However, Mr Shotton has called for Tuesday's special meeting because he does not believe the works at Deeside Leisure Centre pose a risk to the public.
'Last resort'
He said: "It's a large area and it seems very unlikely that the work that's going on there would affect the area where they've held the bonfire for the last 42 years.
"The notice of motion was a last resort really.
"This is a big event - you're talking thousands of people - and I don't think you could find another suitable venue with significant access and parking.
"Plus, it's right opposite the fire station, so from a health and safety point of view, it's perfect."
A council spokesman said: "The site which normally hosts the fire service's annual charity bonfire and fireworks display is currently under the control of contractors who are developing new facilities for Deeside Leisure Centre.
"The contractors are currently on schedule to hand over the new facilities to the council in mid-November.
"The council has liaised with the fire service throughout the planning phase of the event and is working with the fire service to secure an alternative venue for a firework display."