Maternity service changes could increase travel times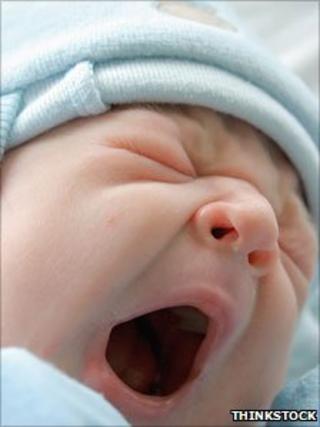 Proposals for an overhaul of maternity and paediatric services in north Wales could see women with birth complications having to travel more than 30 miles to their nearest specialist hospital.
Health chiefs are considering downgrading acute maternity services at one of the three main hospitals.
The existing set-up there would be replaced by a midwife-led unit.
A review board will present its findings in November.
There are currently services at Ysbyty Gwynedd in Bangor, Ysbyty Glan Clwyd in Bodelwyddan, and the Wrexham Maelor Hospital.
But the Betsi Cadwaladr University Health Board (BCUHB) has put forward proposals to remove acute and intensive services either from Wrexham or Bodelwyddan and create the new-look unit instead.
The changes could mean a woman from Wrexham needing a Caesarean section being sent to Glan Clywd 40 minutes away.
Similarly if the service is downgraded at Glan Clywd, a woman could be sent to Wrexham or Bangor instead.
The BCUHB has confirmed there is a total of four options.
They include maintaining all services on all sites, and "two site" models using Ysbyty Gwynedd, Bangor, and either Ysbyty Glan Clwyd, Denbighshire or Wrexham Maelor Hospital.
A stakeholder meeting in Llanduno on Tuesday was told about the four options which are to.
Maintain all services on all sites
Establish a two-site model at Ysbyty Gwynedd and Ysbyty Glan Clwyd to provide intensive and acute services supported by midwifery led units and community services
Establish a two-site model at Ysbyty Gwynedd and Wrexham Maelor to provide intensive and acute services supported by midwifery led units and community services
Establish a single paediatric unit at Ysbyty Glan Clwyd with day units at Wrexham Maelor and Ysbyty Gwynedd
Dr Brendan Harrington, chief of staff for children and young people clinical programme group, said similar patterns of care operated elsewhere in the UK.
He said if the journey time could be kept within an hour, "it is usually a safe transfer".
He added: "We must ensure that there's safe and dependable methods for moving patients if they require a level of care which is not available in the site they present to."
Manpower
Dr Harrington said the current system faced "problems with manpower and financial resources which mean, while our present services are safe and we believe of good quality, we are not confident that we can maintain that safety and quality into the future without some changes."
Ann Parry, of the Cherish parents support group in Wrexham, said extra travelling time for families whose children require long hospital stays could be disruptive.
She said: "That travelling time to another hospital is so damaging, not just for the child and the bonding the parents need to do to be with that child....if they've got other children at home as well it's logistically a nightmare."
The BCUHB has said current services are "based on the boundaries of the former NHS organisations in north Wales and cannot be sustained".