Flintshire council defers A55 truck stop decision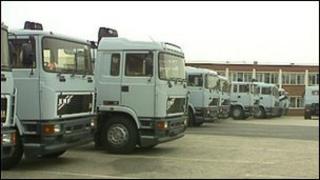 Councillors due to discuss plans for an overnight lorry park off the A55 at Caerwys in Flintshire have deferred their decision.
The proposed development, at Park View Garage, would include toilet and washing facilities and space for a maximum of 20 vehicles.
The project has been recommended for approval, subject to conditions.
It is not the first time Flintshire council has considered an application for a truck stop at Caerwys.
Two separate applications to set up truck stops and a business park were were rejected last year after councillors decided they were inappropriate for a rural area.
One of the schemes involved parking for up to 59 vehicles, while the other proposed catering for 36 lorries.
However, Flintshire's head of planning, Declan Beggan recommends in a report that outline planning approval be granted for the latest scheme, subject to various conditions which include landscaping requirements and a single access point from the B5122 road.
He writes: "The small scale of the facility need not necessarily prejudice a further facility along the A55 on the basis that each proposal must be considered on its own merits."
Last week, a 57-year-old Latvian truck driver was jailed for six months for lying about the amount of rest he had taken after being stopped by North Wales Police officers on the A55 at Bangor.
"It should send a stark warning to lorry drivers that if they do not abide by the law and ensure they take their necessary breaks they will be caught and prosecuted," Sgt Ifan Jones told a newspaper.