Tributes for 'keen' motorcyclist Stephen Williams, 52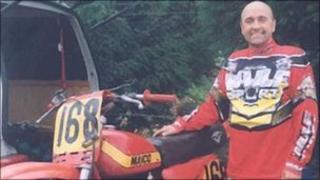 The family of a motorcyclist who died in a collision in Denbighshire say he was a keen and experienced rider who loved his bikes.
Stephen Allan Williams, 52, died when the motorcycle and car were in collision on the A547 between Rhuddlan and Borth.
Originally from Liverpool, he grew up in Gronant before moving to Lancashire.
He had been visiting his father in Dyserth when the accident happened on Monday.
His father Allan, said Stephen was his motor cycling buddy and he often used to drive from his home in Rossendale and the two of them would go out riding together.
"He loved his motorbikes and had been riding since he was 15 years," he said.
"He owned three bikes and was a very experienced motorcyclist. This weekend he drove over to Wales in his car, on Monday Stephen and his girl friend went off for a ride on my motor bike.
His mother, Sonya, who lives in Prestatyn, added: "With lots of friends and family in the area, Stephen was always over here visiting, his nickname was 'Steve Scouse' and a lot of people will know him as that.
"Stephen will be sadly missed."
Mr William's son, Craig, said the whole family were motorcyclists and owned bikes. He said his father would take part in motorcross and track events across the country.
"My Dad was the most thoughtful of people and was always there especially if we needed help with one of the grandchildren."
The family also thanked those who had tried to help following the collision, including the emergency services.
An investigation is continuing.
Witnesses are asked to ring 101, if in Wales, or 08456071001 (Welsh language line) 08456071002 (English language). They can also send an e-mail: northwalespolice@north-wales.police.uk