Airbus training centre opens at Broughton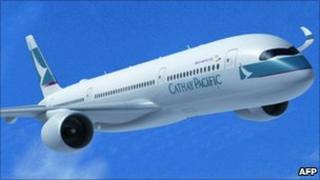 A centre to train Airbus employees in new wing-building technology has opened in Flintshire.
The assembly government has invested more than £28m in the site where trainees will learn about using new lightweight materials.
Thousands of apprentices and employees will attend courses at the centre at Hawarden Industrial Park in Broughton.
The skills learned there will be applied to the manufacture of wings for the new Airbus A350 XWB.
The Advanced Composite Training and Development Centre was opened by First Minister Carwyn Jones.
He said: "Today we are bringing together government, academia and industry under one roof for a single purpose: To keep Wales at the forefront of innovation and manufacturing."
The composite materials made up of fibres and resins are far lighter and more resistant than the aluminium alloys they will replace.
Trainees from across the UK will learn the design, manufacture and assembly of the lightweight materials.
Glyndŵr University in Wrexham will provide higher education courses focusing on research, while Deeside College will provide further education courses.
Airbus executive vice-president Thierry Baril said: "The apprentices and employees who walk through the centre's door will turn around and leave ready to work on the next generation of aircraft.
"They will be at the forefront of a technology that creates aircraft that are lighter, and therefore more efficient.
"They will be a key link in the global chain that comes together to create world-class aircraft, and they will be the foundation that anchors a strong manufacturing community in Wales, and the UK."