Rhyl residents win 'David and Goliath fight'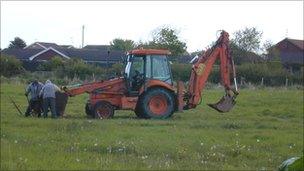 Residents are celebrating winning a battle to preserve open space on a Denbighshire housing estate.
Developer T Anwyl & Son, Rhyl, lost its appeal against a previous decision refusing permission for outline planning for a residential home.
Resident Ann Jones described the news as "a victory of David over Goliath" for people on Park View estate, Rhyl.
"This is great news for all who have campaigned against this unnecessary and unwelcome development," she said.
No one was available for comment from the developer.
It had appealed after Denbighshire council rejected an outline planning application which, the inspector said, included a two-storey 60 bed residential care home.
But the appeal was rejected on the grounds the area poses a flood risk.
Residents say their battle is not over yet.
They are trying to get the area made an official village green to protect it from development in the future.
The Park View Residents' Association said for more than 20 years people living on the estate have been able to use the patch of land adjoining Ffordd Elan for walking and playing.
Vale of Clwyd MP Chris Ruane said: "This is great news and testament to all the hard work residents have carried out to oppose the application and shows what people power can achieve.
"This land should be developed for community use - not housing - and common sense appears to have prevailed.
"I, along with Ann Jones AM, will be monitoring the situation carefully to ensure the land is only developed in accordance with the residents wishes."
A spokesperson for the residents' association said: "Although welcoming the inspector's decision issued, we are disappointed that no mention was made of the loss of open space."
They said they are hoping to meet with Denbighshire council to discuss their application for village green status.