Children's ward shake-up concern in north Wales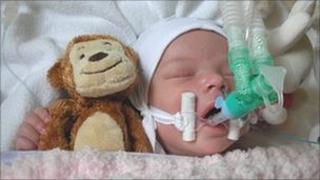 Opposition is growing to plans which could affect maternity and children's hospital services in north Wales.
Parents have set up a campaign group in Wrexham as they are worried any loss in services at the town's Maelor Hospital could have a big impact on children and their families.
Betsi Cadwaladr University Health Board (BCUHB) is currently discussing a raft of proposals and say nothing is finalised.
One mother, Ruth Drake, say the campaign group has been inundated with support from parents who say they owe much to the children's ward and special care baby unit.
"My daughter wouldn't be here without them," said primary school teacher Mrs Drake, whose daughter, Elin, two, was born with cerebral palsy.
She and other parents with children with specialist on-going needs can take their child straight to the children's ward if they have problems or complications during treatment.
But now health officials are considering downgrading acute maternity services, including special care baby units, at one of the region's three main hospitals and centralising specialist care.
They are also discussing doing the same with children's wards across the region.
Petition
And another proposal includes maintaining a 24-hour children's ward at Ysbyty Glan Clwyd, Bodelwyddan, with day supported units only at Ysbyty Gwynedd, Bangor, and Wrexham Maelor.
"Parents are in disbelief," said Mrs Drake.
"Every message we receive says there is a need for the service in Wrexham with people opposed to moving it."
An online petition, Save Wrexham hospital's children services, has amassed 700 names in two weeks.
Meanwhile, a Facebook group, Save Our Children's Ward, has 1,000-plus supporters with parents highlighting cases where their children have been helped.
Some parents raise concerns about ferrying poorly children on a 40-minute journey from their home to hospital.
Others say that time could be crucial in an emergency.
'Difficulties'
A spokesman for BCUHB said a review board will present its findings in November after considering the views from 150 stakeholders and experts.
And if any preferred option would lead to a big change in current services then that would have to go out to public consultation. These are the plans being considered:
Maintain all services on all sites
Establish a two-site model at Ysbyty Gwynedd and Ysbyty Glan Clwyd to provide intensive and acute services supported by midwifery led units and community services
Establish a two-site model at Ysbyty Gwynedd and Wrexham Maelor to provide intensive and acute services supported by midwifery led units and community services
Establish a single paediatric unit at Ysbyty Glan Clwyd with day units at Wrexham Maelor and Ysbyty Gwynedd
The review, which is led by a consultant obstetrician and a consultant paediatrician, aims to ensure current staff and financial resources are used "effectively to provide safe services across north Wales".
And it was prompted, partly, due to on-going "difficulties in recruiting and training junior doctors" which are set to continue.