Parents appeal for return of soldier's memorial stone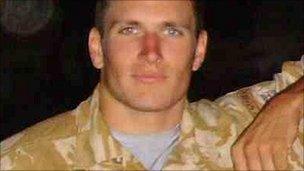 The parents of a Flintshire soldier who died in a bomb attack will learn later if his memorial is to be returned.
Ann and Robert McFerran want to place the stone at their church in Connah's Quay to remember their son, Senior Aircraftman Peter McFerran, 24.
It has been in storage after being removed from the town's memorial garden due to vandalism a year ago.
Connah's Quay Community Action Team, which created the memorial and garden, declined to comment.
Known locally as Quay CAT, the group will discuss the issue at their annual general meeting on Friday.
"All we want is to see Peter's stone in a suitable place so we can go and sit quiet by it," said Mrs McFerran.
But she doesn't know where the stone is being stored or if Quay CAT will allow her to have it.
"I feel like I'm banging my head against a brick wall," said Mrs McFerran.
Her son died alongside two RAF servicemen in a mortar attack on their accommodation block near Basra, Iraq, in July 2007.
They were resting from their duties protecting aircraft operating from Basra airport when they came under attack.
Mr McFerran, a heavy machine gun operator with 1 Squadron RAF Regiment, followed his father into the RAF in 2004.
Mrs McFerran said: "He always wanted to be in the RAF so, in 2004, he went along to Wrexham and he was accepted.
"He rang me up to say 'I've signed my life over to the Queen'. He was so proud. He was destined for it."