Parents' joy as soldier's memorial stone is returned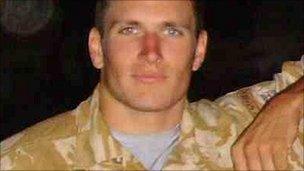 A memorial stone to honour a Flintshire soldier killed in Iraq is to be reinstated after being vandalised.
Senior Aircraftman Peter McFerran, of Connah's Quay, died in a mortar attack in Basra in July 2007.
The tribute to him had to be removed from the town's community gardens after vandals targeted it.
But now parents Ann and Robert McFerran are "delighted" it will be relocated.
The stone was put into storage by the Connah's Quay Community Action Team (Quay-CAT), which set up the garden, to protect it from further damage.
The McFerran family were upset they could no longer see it and appealed for it to be reinstated at a different site in the town.
At Friday's annual general meeting, Quay-CAT decided to grant their wish.
The stone will soon be returned to the McFerrans and reinstated at the town's Salvation Army centre on Dee Road.
Mr McFerran said: "We were really delighted and surprised to hear we will be getting the stone back.
"It will be 10 minutes' walk from our house so we can go and see it whenever we want.
"I am not sure of timescales but we were told it would be happening soon."
The couple had been desperate to have the stone returned so they could sit and remember their son in a quiet place.
Chairman of the Quay CAT group Coun Ian Dunbar said: "Hopefully this is resolved now and they are happy with the decision.
"For the past 12 months they had been hoping to have the stone placed on the cenotaph but the authorities would not allow that.
"The committee decided the option of putting it in the Salvation Army gardens was a suitable one so we could hand the stone over."
Mr McFerran died alongside two RAF servicemen when their accommodation block was bombed.
They were resting from their duties protecting aircraft operating from Basra airport when they came under attack.
Mr McFerran, a heavy machine gun operator with 1 Squadron RAF Regiment, followed his father into the RAF in 2004.
Mrs McFerran said: "He always wanted to be in the RAF so, in 2004, he went along to Wrexham and he was accepted.
"He rang me up to say 'I've signed my life over to the Queen'. He was so proud. He was destined for it."