Father's fight to care for disabled son at home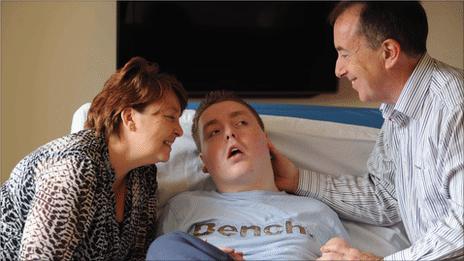 The father of a teenager left disabled after choking on chewing gum has spoken of his frustration at not being able to care for his son at home.
Rhys Thomas, 19, of Flintshire is unable to speak, see, or move after gum became lodged in his windpipe in 2007.
Grahame Thomas said Rhys can't leave a care home to return home to Holywell.
Health officials say they want more time to provide a "complex care package" but are committed to a transfer "as soon as possible".
Rhys was 15 when he had been chewing gum before he went to bed.
It became lodged in his windpipe and he suffered a heart attack, thought to have been caused by lack of oxygen.
He is currently cared for at a home in Colwyn Bay, Conwy.
His parents Grahame and Trish Thomas take him back to the family home for visits, and he spent his 19th birthday there on Sunday.
Mr Thomas said the family was told by the health board that they could finally bring their son home to live next month, where he would receive 24-hour care.
However, he said: "We were going to bring him home one day at a time to build it up gradually, ready for him coming home permanently.
"But now that date has disappeared and nobody has given an explanation why.
"My understanding is that it appears to be maybe more expensive than they anticipated. We're going to need two carers, so it was never going to be cheap.
"As far as I'm aware, they have had three tenders in, but no decision has been made.
"Given we're in October it would be impossible for Rhys to come home by 1 November now - we're looking at weeks if not months.
"In my mind I'm thinking it could be January before anyone makes a decision.
"In the mean time we're concerned, with all the cuts that are happening at the moment, that someone might actually say it's too expensive to bring him home."
Mr Thomas added: "The difficulty is finding one person you can contact, because there are layers and layers of bureaucracy.
"It's a new trust, then you find people are in interim positions and move on. It's extremely frustrating. Some days it can make you really depressed.
"We don't know what the end game is at all. We have got no date.
"With a bereavement, people say you can eventually move on, but we feel that we can't do that because we don't know what's going to happen.
"Nobody's been able to tell us how long a life span Rhys will have.
"It's a very poor quality of life, but we want to make it as loving and caring and comfortable as we can."
A spokesman for the Betsi Cadwaladr University Health Board said: "We are very sorry for the distress and delays experienced by Rhys and his family. There are a number of organisations working with the family to try and ensure that his care needs can be safely met now and in the future.
"A date for Rhys to be transferred home had been suggested for 1 November but despite the best efforts of all involved this has not been possible. Rhys needs a high level of service and meeting his needs requires a complex care package.
"The health board needs more time to ensure that this is provided to him by appropriately trained professionals. We are committed to working with Rhys and his family to put these arrangements in place as soon as possible."
Related Internet Links
The BBC is not responsible for the content of external sites.