Denbighshire council applies to remove Corwen Pavilion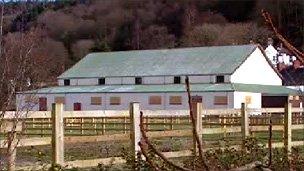 A council has put forward an application to pull down a pavilion in Denbighshire.
The decision was taken in consultation with the Corwen Pavilion working group, which was set up to use the site to promote Welsh culture.
It has been agreed the building, once used for concerts and meetings, is beyond economic repair.
Denbighshire Council said while it lies empty there is a significant risk both to it and the community.
The 99-year-old pavilion was once a popular venue and hosted the town's first Urdd youth eisteddfod in 1929.
It was temporarily closed last March after asbestos was discovered and the closure was made permanent the following month.
Denbighshire Council said in a statement that it has worked closely with the Corwen Pavilion Working Group over the last six months.
It has brought in a number of officers from the county to look at issues related to building design, cost and future funding.
The authority said it has been agreed that this building is beyond economic repair and any future development on that site would require the removal of the existing structure.
It is to issue a six week statutory notice of its intention to remove the pavilion and the works are planned for early next January.
Council officers will be available to answer questions from the public on 1, 2 and 4 November during drop-in open sessions at the One Stop Shop/Library in Corwen.
The council said it remains fully committed to transferring the title of the pavilion land over to the community who will be required to set up a charitable trust.
It has previously been estimated that the building will cost between £2m and £3m to replace.
Related Internet Links
The BBC is not responsible for the content of external sites.