Prestatyn mayor 'to apologise for Hitler remark'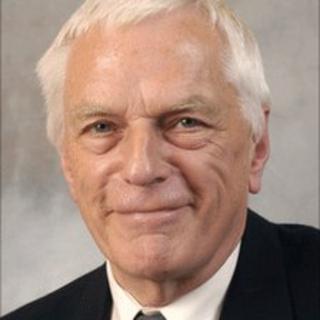 A mayor accused of referring to Hitler in a discussion on travellers has offered to apologise, says a council.
Mike Eckersley, mayor of Prestatyn and a Conservative Denbighshire councillor, allegedly made the reference at a council corporate equalities meeting.
Christine Evans, the chair of the meeting, called it a "stupid" comment made on "the spur of the moment".
The Welsh Conservative Party said it investigated immediately and had found no wrong-doing.
Dr Evans said Mr Eckersley "used the word Hitler and he said 'he got rid of them' or something like that".
She added: "It was a stupid remark and it was certainly not acceptable, particularly in an equalities meeting, although it probably wouldn't be a sensible thing to say in a pub.
"It was one of those spur of the moment remarks which was stupid but it's been blown out of proportion and he doesn't think like that."
However, fellow county councillor Peter Duffy, who was not at the meeting, said he had been told about Mr Eckersley's comments, and believed he should resign both as a mayor and councillor.
Mr Duffy, who is of Romany descent, has written to Prestatyn Town Council expressing his concerns.
He added: "If he's apologising, he must have done something."
In a statement, Denbighshire council said: "No complaint has been made to the council's standards committee.
'Completely satisfied'
"Concerns have been raised about alleged comments made by the councillor during an internal meeting.
"The council has looked into the matter and spoken at length with the councillor who says he doesn't hold those views expressed and he has offered to make a full apology during the next meeting for any offence he may have caused."
Nobody was available to comment at Prestatyn Town Council.
The Welsh Conservative Party confirmed Mr Eckersley had referred to Hitler, but not in the context he had been accused of.
A party spokesman added: "After an immediate investigation, we are completely satisfied that the councillor in question did not make the unacceptable and offensive remarks of which he is being accused.
"More than that, any examination of his political record shows that he could not and would not make the reported remarks.
"His consistent rejection of intolerant attitudes towards the traveller community in this debate and others rules out any possibility of his making such offensive remarks.
"Any remarks made, were directed at those who wrongly believe members of the Roma community should be sent home.
"Any suggestion to the contrary can only be based on hearsay and be profoundly untrue."