New jobs as baker opens six shops in north Wales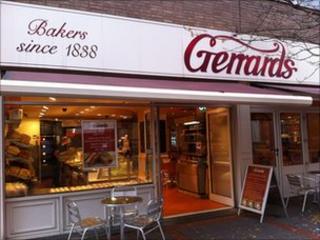 A Wrexham bakery is taking over six shops from a former rival which closed in the summer, creating 13 jobs.
Gerrards Confectioners, said to be Wales' oldest family baker, starts to open the rebranded former Ecclestons' shops next week.
Ecclestons' 112-year-old bakery closed its 10 stores in north Wales in August after the owner retired from business.
It was reported at the time that 12 full-time and 30 part time staff were made redundant.
'Investment'
Some of those staff have been taken on to work under the new shop owners.
The bakery shops are in Corwen and Llangollen, Denbighshire; Chirk, Gresford and Park Avenue, Wrexham; as well as Bala, Gwynedd.
They have been chosen as the towns still support traditional local shops, according to director Dawn van Rensburg.
She said: "Gerrards is the oldest family bakers in Wales, and believe that through continued investment, new development and expansion we will retain our strong roots in north Wales and Wirral where the firm has been trading since 1838."
Mrs van Rensburg is the sixth generation of the Gerrard family to run the business.
The company employs a total of 140 staff with a bakery on Ruthin Road, Wrexham, which serves 15 shops and a sandwich delivery service.