Wrexham backed for city status bid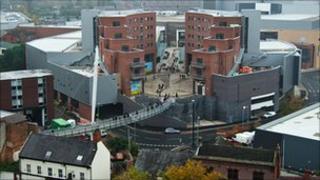 One of Wales' top politicians would back Wrexham's bid to become city but a senior church leader wants a cathedral town entry instead.
David Jones, a Welsh Office minister, offered his support to Wrexham in the running to find a new city to mark the Queen's diamond jubilee in 2012.
Wrexham has launched three previous attempts in the past, the last time in 2002 when it lost to Newport.
But the Bishop of St Asaph has called for his cathedral town to be chosen.
The Right Reverend Dr Gregory Cameron said it was time the cathedral town became a city, having put itself forward in 2002 along with Aberystwyth and Machynlleth.
"City status is not actually about economics, it must be about building community," he said.
"We don't want to affirm size of economic punching power but we want to affirm the diversity of life in Wales.
"We've got cities in south Wales and now we need a couple in north Wales to balance the books."
Formal entry
But speaking about Wrexham's bid, the Welsh Office minister David Jones said: "It is only natural that Wrexham should be recognised as a city.
"It is already seen as the 'capital' of north Wales and is already a favourite for many to win city status as the educational and industrial hub of north Wales."
The council has yet to formally throw its hat in the ring.
Four of the five existing Welsh cities - Newport, Cardiff, Swansea and the small cathedral city St David's - are in the south. Bangor is the only one in the north.
Since winning the accolade in 2002, city status has cemented Newport's place as a "major player in economic terms and socially", according to Newport East AM John Griffiths.
"For example, we know some developers and retailers will only consider locating to a city so it does open up opportunities for development that are not there for towns," he said.
Local authorities have until June to submit their entries which will then be considered by the UK government before recommendations are submitted to the Queen. The results will be announced in 2012.
Neither St Asaph or Wrexham have formally announced they will bid for city status.
In Wrexham, Councillor Bob Dutton said: "Now that full details of the competition have been made available councillors will be asked their views and the views of our partner organisations and the public will all be taken into account before council make any decision about submitting a bid."