Row over who pays to grit Flintshire's estate roads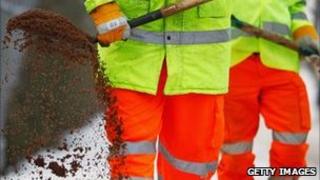 A row has erupted over who should pay for grit to keep wintry roads clear on estates and rural roads in Flintshire.
The county council has offered to equip town councils with extra grit bins for a charge, but they say it would mean taxpayers paying twice.
People pay part of their council tax to the county council which is responsible for highways, and some to their local council which manage other services.
Flintshire council says joint funding will become common as it makes savings.
Tony Sharps, Flintshire council's executive member for environment, called the funding arrangement an "innovative proposal", saying the authority has to make "unprecedented savings" in the next few years.
But town and community councils in Flintshire do not think it is fair on council tax payers.
Holywell town clerk Colin Pierce confirmed local councillors were unhappy and decided not to pay for the extra grit bins.
'Problems arose'
It is understood that councils covering Shotton, Connah's Quay and Mold have made the same decision, with Saltney still to decide.
"People pay the county council for gritting, and town councils for other things, but if the town council pay for the gritting, then everyone's paying twice," said Mold councillor Carolyn Cattermoul in a report by Flintshire Chronicle newspaper.
In Buckley, however, the town council made a decision some years ago to buy an extra six bins for the town, with grit bought from the county council.
"The town council has a record of putting its hand in its pocket when it's needed for the town," said town clerk Martin Wright.
Mr Sharps said: "The council is having to make unprecedented savings in the next few years but, at the same time, provide our residents with first class services.
"Flintshire County Council worked hard last year keeping main roads clear - but problems arose from people not being able to get off the housing estates to reach the main roads.
'Lessons learnt'
"This was particularly so in rural areas where some roads became impassable, cutting off villages for days on end.
"Problems were exacerbated by the theft of salt bins by unscrupulous individuals and the overuse of salt by certain individuals, meaning that others had none.
"Lessons have been learnt from last year and this is why we are working with town and community councils to provide a better service for residents."
Meanwhile, Alyn and Deeside MP Mark Tami called on the county council to grit roads on a housing estate in Connah's Quay which have yet to be formally adopted by the authority.
In the meantime, the developer has agreed to making grit bins available to residents on Badger's Walk.
They have set up a customer telephone helpline (01925 849500) for residents to report problems, said Steve Jones, head of Flintshire council's Street Scene.