John Lennon's murder and Welsh link remembered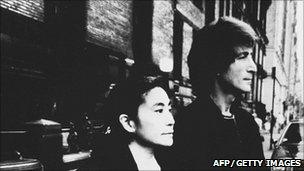 There are stand-out stories in every journalist's career - but for John Shone the murder of John Lennon on 8 December, 1980 was definitely the one.
Shone still vividly remembers the early-morning phone call that informed him the former Beatle had been shot in New York by Mark Chapman.
As fans around the world woke up to the news of the shooting at New York's Dakota building, Shone, then the BBC's North East Wales reporter, was sent to Ruthin in Denbighshire, where Lennon's ex-wife Cynthia and young son Julian were living.
Shone remembers what happened.
"I got a phone call at five o'clock in the morning, disturbing me from my slumber.
I was told John Lennon had been shot dead in New York. I couldn't believe it.
I was living in Mold at the time, and was asked if I could get to John Lennon's ex-wife Cynthia, who was living in Ruthin.
She and her second husband, John Twist, were running a bistro in Ruthin - now called the Manorhaus.
Without further ado I was straight out of bed and jumped in the car. Within about 20 minutes I was in Ruthin. It was about 5.30am and the streets were deserted.
I got to the house and it was in darkness. I remember having no idea what they had been told, if anything.
At about 6.40am I rang the bell very gingerly, and John Twist came to the door.
I told him I was from the BBC and asked if he knew why I was there, and he said 'yes'.
Cynthia, wasn't there. He told me she was down south staying with Ringo Starr's ex-wife.
He said 'she's on her way back to tell Julian', her son with John Lennon.
Julian at that time was a pupil at Ruthin School. He was asleep in the house, not knowing his father was dead.
It was a difficult situation. I thanked him and he gave me an idea when Cynthia would be back.
I had enough to file for the Radio Wales news breakfast bulletins, and then went back home to shave and shower.
I went back an hour later and the streets of Ruthin were packed. There were reporters, photographers and camera crews spilling off the pavements on to the roads.
Some time later Cynthia turned up in a big limo with dark glasses on. She had a couple of minders with her and was hurried into the house without saying anything.
She was in total shock, like everyone was.
A short while later, John Twist came out and read a statement to the assembled media, and made it clear Cynthia wouldn't be answering any questions.
But I had a disaster because my tape recorder jammed. I didn't get the statement.
Thankfully, I borrowed a recorder from a friend and colleague of mine, Derek Bellis.
While the rest of the pack was going through their notes and their recordings, I managed to grab John Twist later.
I always think it was because I had seen him earlier in the day, that he read the statement again.
I also managed to throw in a couple of extra questions.
I asked him whether Julian would be meeting up with Yoko Ono, and he said very probably later that day.
I was very grateful for that. Not only did I managed to salvage the recording of the statement, but he'd given me extra information as well.
Later that day, Julian was taken from the house and flown to New York.
I'm eternally grateful to Derek Bellis for lending me the recorder, and to John Twist for sparing me the time later.
It was a very sombre day. I really felt for Cynthia and Julian - they were a well-known part of the community.
The impact on the whole area, and the whole of the country, was incredible.
Some of my material was used by Radio Merseyside, who were basically leading the mourning across Liverpool.
The Beatles at the time were so well-known. They were icons. That day still resonates strongly today - everyone remembers where they were when they heard John Lennon had died.
The impact on me was huge, far more than the day Elvis Presley died. John Lennon was British, and, of course, he was from Liverpool, which is so close to north Wales.
It's one of those things, like Diana's death and the Pope's visit in 1982, that sticks in my mind. These were all such massive, truly international events."