Wrexham makes 2011 its year of culture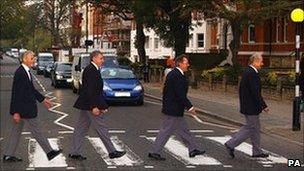 Wrexham is hosting more than 300 arts events starting in the new year as it makes 2011 its year of culture.
Council officials have come up with the idea which they hope will draw more visitors to the area and bring in more money for local businesses.
The first events in January include an open-air lantern parade through Wrexham town centre along a performance from Fron Choir and a big firework display.
Events are being held to raise the area's profile, says organisers.
Coun Rodney Skelland said: "Pulling together new and existing activities to create an official year of culture is a simple idea, but the potential benefits for the local economy are huge," he said.
"As well as offering residents a wealth of entertainment, the project will help thrust Wrexham's culture and heritage into the spotlight and attract even more spending visitors to the area - which can only be a good thing for local businesses."
A number of acts have already signed up to perform including The Three Welsh Tenors and the Welsh National Opera.
Plus, Wrexham is hosting the National Eisteddfod in August.
Events for the first quarter of 2011 are published on Wrexham's council website.
Related Internet Links
The BBC is not responsible for the content of external sites.