Villagers win speed limit reduction through Treuddyn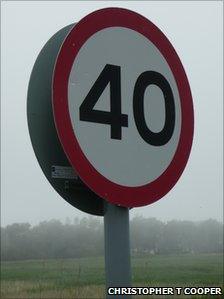 Villagers are celebrating winning a long fight to get the speed limit cut through their Flintshire community.
Council officials have agreed to put up signs reducing speed limits from 60 to 40mph on the A5104 Corwen road which runs through Treuddyn, near Mold.
For a decade residents have been arguing the reduction could cut the number of accidents along the busy road.
One claims there have been 17 crashes outside their home.
Meanwhile, others say there have a number of near misses as the road has a sharp bend on the village boundary, and minor roads accessing the A-road where the limits are also being reduced.
"This is fantastic news," said resident and Flintshire councillor Carolyn Thomas.
"Every time there was an incident we kept a record. There were a lot of accidents involving cyclists and motor-bikes.
"And there have been so many near misses - people don't realise there is a village when they come along this road.
"Other the years one resident had 17 crashes into his fence."
North Wales AM Mark Isherwood, who lives locally, explained: "There were no objections to the speed limit advertised in the press and locally, so Flintshire County Council has said highway officers can now move forward with the scheme and an implementation date can be fixed.
"It has taken 10 years of campaigning, but I am pleased to hear that a victorious end is in sight," he said.
A Flintshire council spokesman said: "The new speed limit on the A5104 will come into force either later this year or early next year. Enforcement will be a matter for the police."
Related Internet Links
The BBC is not responsible for the content of external sites.