Welsh schools' advice on closing during extreme weather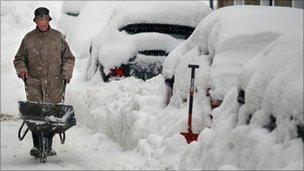 All schools in Wales are to be issued with new guidance on when to close, in a bid to reduce the number of days lost due to bad weather.
Education Minister Leighton Andrews said both he and parents were "concerned" about the number of school days lost.
"Our guidelines emphasise what actions head teachers can take to keep the school open," said Mr Andrews.
It will include a generic risk assessment and home study arrangements.
Last winter, 71% of primary schools in Wales and 72% of secondary schools closed fully for more than two days
More than a quarter of primary schools in Rhondda Cynon Taf and more than a fifth of schools in Blaenau Gwent were closed for eight days or more, according to Welsh Assembly Government figures for December 2009 and January 2010.
The guidance, published by the assembly government and Welsh Local Government Association (WLGA), is designed to help teachers decide whether to close in extreme weather.
Its aim is to ensure pupils have the "maximum amount of teaching".
Education Minister, Leighton Andrews, said: "The extreme weather experienced in Wales last winter caused over half of the schools in Wales to close.
"We have already experienced a cold snap this winter which forced some schools in the worst affected areas to close.
"Parents and I are concerned about the number of days of schooling children are losing due to snow and ice, and we want to make sure, as we head into another winter, that head teachers are aware of the assessments that should be made before a school is closed.
"We are committed to providing schools with guidance for extreme weather, so pupils can receive the maximum amount of teaching.
"Our guidelines emphasise what actions head teachers can take to keep the school open. We want to give them the support to confidently make the best decision for the school."
The guidance includes a risk assessment and examples of potential issues schools might face, with suggestions on how to tackle them.
Where schools must close, they are advised to "consider what distance learning or self-study arrangements can be made for pupils in year 10-13, in order to minimise disruption to examination courses".
Related Internet Links
The BBC is not responsible for the content of external sites.