Man charged by police over Plas Madoc community scheme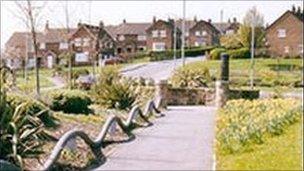 A man has been charged with theft and fraud after an investigation into allegations of financial irregularities involving a scheme to regenerate one of Wales' most deprived housing estates.
It follows the sacking of the co-ordinator of Plas Madoc Communities First, after she and an official were criticised in an Audit Office report.
Miriam Beard was dismissed after a disciplinary hearing but can appeal.
The charged man, 46, from the Denbigh area, is due in court on 31 December.
He is charged with two offences of theft and six of fraud in relation to the Plas Madoc scheme, which is based near Wrexham.
The police investigation is continuing.
Another man, the scheme's finance officer Andy Bunning, and co-ordinator Miriam Beard, were suspended earlier this year after an auditor's report revealed management weaknesses and a "fundamental lack of financial control" within the Plas Madoc Communities First project.
The investigation found a car had been bought with petty cash and more than £3,000 spent on driving lessons as a perk for staff.
Mr Bunning later resigned and Ms Beard has now been dismissed following a disciplinary hearing.