Is the 'Flintshire Banksy' an artist or vandal?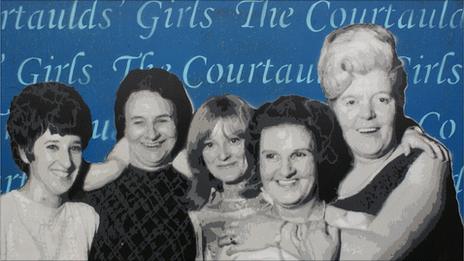 To some, it's modern art. To others, it's nothing more than graffiti.
But like them or loathe them, a series of paintings across Flintshire have certainly got people talking.
And they have also had people wondering... just who is the "Flintshire Banksy?"
The artist - or culprit as some might term him - calls himself Random, but he has been likened to the Bristol-based Banksy whose political and satirical graffiti on street walls has made him famous - if anonymous.
Doubtless, many people know who Banksy is, but their reluctance to identify him furthers his fame.
The same too, might be said of Random.
Flint Town councillor Vicky Perfect claims to know who he is.
She features in Random's latest creation, a painting based on workers at the former Courtalds factory site at Greenfield Dock.
She said: "The BBC local North East Wales website set up a page on Courtalds, from a historical point of view, and they used a picture of me and some of the girls on a night out years ago.
"Random, as he likes to be known, was trawling through the BBC website and he saw the picture.
"He rang me and asked if he could recreate the picture - although I didn't know who he was at that time.
"He came round and showed me some of the stuff he had done. As soon as he opened the book I said: 'You're Random aren't you?'
"He said he was, but asked me not to tell anyone.
"I have no intention of telling anyone who he is. I think it's better that he's a mystery, just like Banksy.
"There's no way his stuff is graffiti. He is remembering industries that were here years ago but have now been lost.
"At one time Courtalds employed about 8,000 people, before it closed in 1978.
"We used to make yarns for jumpers and shirts, and the picture he used of us was taken on a night out. I have to give him 10 out of 10 for it.
"And his works aren't permanent. He puts them up and then takes them down.
"There are killjoys who call it graffiti, but I don't think they have actually seen them. It's definitely art."
Random's work first became a talking point in summer 2009.
They include a portrait of an old miner in Queensferry, followed by a Father Christmas.
Another portrait, the Salmon Fisherman, appeared this year in Dock Road, Connah's Quay, and is thought to be based on a fisherman still living locally.
Inevitably, his work has sparked a local debate.
Richard Dunn, an art lecturer at Deeside College, believes Random is using stencils and spray paint to give a "photocopied nature to the artwork".
He added: "The use of intricate stencils helps to minimise time, thus not getting caught and allows over spraying of different colours.
"He creates intricate and subtle portraits of ordinary people in ordinary places. The recent works seem to rely on visual imagery based on traditional iconography, like a miner, to put forward a political or social theme relevant to the area.
"The Banksy of Flintshire reignites the question of is it street culture or vandalism pure and simple?"
One person who thinks he knows the answer to that question is Flintshire council's deputy leader, Tony Sharps.
He said: "I'm not very happy about it.
"You have to draw a line somewhere. Wherever you go in the USA, this sort of art form seems to be encouraged, and to some people it seems to be a gross act of vandalism.
"If these people want to want to draw attention to some of these outrageous drawings perhaps we should have a special board and let them draw away to their hearts' content.
"But for goodness sake, leave the public buildings alone."
Related Internet Links
The BBC is not responsible for the content of external sites.