Lanterns released in Rhuddlan murder victim's memory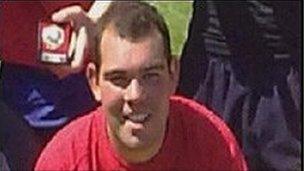 The friends and family of a man stabbed to death a year ago will release Chinese lanterns in his memory.
To mark the anniversary of Anthony Burke's death, the group will light the lanterns on a hill in Rhuddlan in Denbighshire.
Mr Burke, who was 20, had been planning on sledging down the hill with friends before he was stabbed by Oliver Taylor, then 19, on 23 December 2009.
Taylor was jailed for life for the murder in April.
Mr Burke had been drinking with a group to celebrate a friend's birthday and the group had started a snowball fight in the street at about 2230 GMT.
Taylor, who was at home with his girlfriend, heard shouting and saw a group of about eight people outside, and one person standing on his wall.
A trial jury at Mold Crown Court head Taylor went outside to tell the group to get away from the house.
He claimed at the time the group were holding bottles and he tried to grab Mr Burke.
He said he ran into the house and emerged with a kitchen knife, because he wanted to "scare them away".
He stabbed Mr Burke, who died in hospital on Christmas Eve.
During his trial, Taylor denied having a coloured view of Mr Burke, who was the ex-boyfriend of Taylor's girlfriend, Jessica Hughes.
Since the death, Mr Burke's friends and family have been involved in an anti-knife crime campaign and attended marches.
His brother, Jed, said it was "just to let everyone know knives aren't toys, they do take lives".
He added: "Is it worth risking your life or somebody else's life for no reason basically?"
Rhiannon Harris, from Rhuddlan, who was Mr Burke's girlfriend, said the last year had been "horrendous".
"I'm 19 years old and I have never lost someone so close and I don't know how you are supposed to deal with it," she said.
"I don't know what you are supposed to do. This village is so small and everything is memories."
Friend Martin Parker, 21, from Towyn, Conwy, said: "I have found it really hard to get through this year.
"Words can't explain basically what we've lost because he was that big to us. He was a massive, great friend."