Wrexham mines centre owner seeks demolition order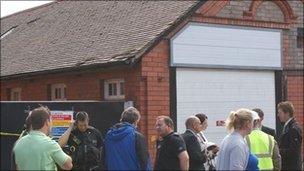 The owner of a mines rescue station partly demolished in the summer now wants the entire building knocked down.
Neville Dickens has put in a planning application for the Wrexham building on behalf of himself and his wife.
Wrexham council is considering whether to prosecute after demolition began in August on the Grade II-listed building.
A consultant hired by Mr Dickens called the Maesgwyn Road building unremarkable and its history could be marked by a photographic record and plaque.
The property was used to train rescuers searching for men trapped in mining accidents.
In August police were called and demolition work was halted after complaints by campaigners trying to preserve it.
Earlier this month, members of Wrexham's planning committee instructed officials to issue an "urgent works notice" to make the building sound.
A statement supporting the application by planning consultant Glyn Bridge, who has been hired by Mr Dickens - a car dealer and former chairman of Wrexham FC - said: "Overall, this is an unremarkable building which may have some historical associations, but they could be adequately commemorated by a photographic record and a plaque.
"There is no point in retaining the training galleries in particular because they cannot be used for any other purpose due to their layout and lack of windows, nor would they be accessible to the public or even capable of being used by anyone living or working in the remainder of the building.
"Nor do I believe that any more than a small part of the galleries would have been originally used for training mine workers."
Planning permission to clear the site to make way for eight apartments was originally granted in 2004 and renewed in 2007.
Mr Bridge said there was "much confusion" over what happened last summer after an historic buildings inspector from Cadw viewed the property two months before the demolition work began as a prelude to the redevelopment of the site.
He said formal notice of the listed building order was not sent to Mr and Mrs Dickens until after demolition work had started last August, and they did not receive notification until four days later because they were abroad.
Mr Bridge said the building was previously owned by the council, and added: "It is worth noting that at no time during the sale of the property by the council or during the processing of the two applications was any reference made to any historical or architectural importance, or the possibility of it meriting protection as a listed building."
A spokesperson for Wrexham council said: "The planning committee agreed an urgent works notice could be issued to ensure works went ahead to make the building sound.
"A risk assessment and method statement will now have to be submitted and we are awaiting these from Mr Dickens. Regarding the current application, we can confirm it has been received and is currently going through the planning process."
Related Internet Links
The BBC is not responsible for the content of external sites.