Wrexham dragon tower decision deferred by councillors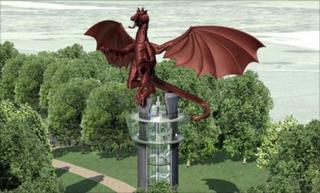 Councillors have deferred making a decision on plans for a dragon tower on the border with England.
The Waking the Dragon landmark at Chirk Park includes a glass tower topped by a dragon in bronze.
Wrexham councillors had been recommended to approve the plans at meeting on Tuesday evening.
But they requested further discussions over issues including the dragon's colour, the project's business case and traffic management.
It is the brainchild of Wrexham businessman Simon Wingett who has launched a public fundraising campaign to finance the building costs, pledging every donor's name would be recorded on the site.
Earlier on Tuesday, Mr Wingett said: "It's a great idea and it's going to be a great thing for Wrexham and for Wales."
'Significant economic impact'
It is claimed the project would create up to 200 jobs, bring £3.5m a year into Wrexham and do "great things" for Wales.
Chief planning officer for Wrexham, Lawrence Isted, who recommended that planning permission was granted, said he considered "that the application represents a unique and unprecedented proposal".
He said the report prepared by independent consultants into the scheme had shown the potential economic impact, with up to 200,000 visitors a year envisaged.
"Even with the lowest scenario presented by 125,000 visitors, it has the potential to create significant economic and wider impacts which would be of benefit to Wrexham, north Wales and Wales as a whole - and at no public cost," he said.
The plans include a 41.5m (147ft) tower topped by a Welsh red dragon which itself would be 23.5m (77ft) high and have a wingspan of 57m (187ft).
At the foot of the glass tower would be a two-storey curved visitor centre with a floor space of 2,150sq m.
Mainly glass sided, this would include a reception area, cafe and kitchen, a retail area, an education/gallery area, and a restaurant and multi-use area.