'Toy town' concern over Wrexham dragon tower plans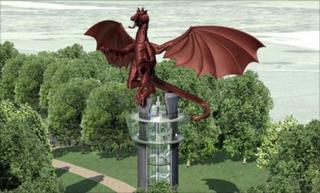 The man behind plans for a giant Welsh dragon tower on the English border says he will not colour it "toy town" red.
Wrexham councillors deferred making a decision on the plan, requesting more discussions over issues including the dragon's colour.
Some raised concerns the bronze statue would lose its colour over time.
But Simon Wingett said by colouring the bronze as "red as the Welsh flag" they would "run the risk of it looking a bit toy townish".
"One has to be terribly careful about that because you are patinating bronze," said the Wrexham businessman, after addressing councillors on Tuesday.
"Because bronze is a living, eternal material it gathers lichen and whatever, I think we should strike a subtle balance.
"We will put a red colour through it but not make it toy town red," said Mr Wingett.
The Waking the Dragon landmark at Chirk Park would house a glass tower topped by a dragon in bronze.
Mr Wingett has already launched a public fundraising campaign to finance the building costs, pledging every donor's name would be recorded on the site.
It is claimed the project would create up to 200 jobs, bring £3.5m a year into Wrexham and do "great things" for Wales.
A report prepared by independent consultants into the scheme shows the potential economic impact, with up to 200,000 visitors a year envisaged.
And, with that, councillors also asked for more information about the project's business plans and further details about traffic management around the site.
"I've got a business plan that is bomb proof," said Mr Wingett.
"It has also been looked at by one of Britain's biggest high street banks and, on the 10th of January, I meet them and Finance Wales to discuss the finance of the whole project and the way forward."
With regards to traffic concerns, Mr Wingett said he had already agreed in principle to tackle any issue but had not dealt formally with the matter in advance of receiving planning permission as it "costs of tens of thousands to have all the conditions in place".
The plans include a 41.5m (147ft) tower topped by a Welsh red dragon which itself would be 23.5m (77ft) high and have a wingspan of 57m (187ft).
At the foot of the glass tower would be a two-storey curved visitor centre with a floor space of 2,150sq m.
Mainly glass sided, this would include a reception area, cafe and kitchen, a retail area, an education/gallery area, and a restaurant and multi-use area.