Gwersyllt set for site of new Welsh school in Wrexham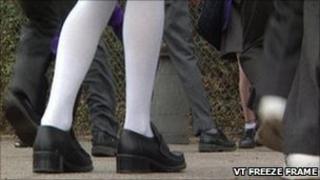 Initial plans for a new £5.9m Welsh-medium primary school in Wrexham have been given the go ahead.
While many parents celebrated, the decision will not be welcomed by some opponents in Gwersyllt who say they will lose green space.
A full planning application still needs approval, and the green light from the assembly government.
The local authority announced last summer it wanted to build a new Welsh-medium primary to ease overcrowding.
In a packed public gallery, a cheer went out when the decision was announced during a planning committee meeting on Tuesday evening.
"It's going to be a wonderful addition to the community," said one of the parents, Donna Hughes.
The mother of three currently sends her eldest daughter to the nearest Welsh-medium school, Plas Coch, on the outskirts of Wrexham town.
She said the school is a bus ride followed by a 20-minute walk away from the family home.
"That's the nearest Welsh-medium education," she said.
"At the moment the school is so over-subscribed, children are taught in mobile classrooms and the majority of those pupils are from our local community.
Alleviate the pressure
"So this school is so important to us and we just are so pleased."
Among the five Welsh-medium infant and junior schools in Wrexham county is Ysgol Plas Coch which has been over-subscribed for a number of years.
The school's capacity is 240 pupils but, as of last September, there were 318 pupils at the school, with additional mobile classrooms, and the school hall being utilised as teaching space.
The planned new school would consist of 210 places to alleviate the pressure on the other Welsh-medium schools.
At Plas Coch, 85% of pupils in temporary accommodation come from the Gwersyllt area, according to a council spokesperson.
But opponents say another area should be earmarked for the school rather than Gwersyllt Park playing fields, more commonly known as Alyn Waters Park.
They cite a loss of green space if the school is given the go ahead even though the site borders Alyn Waters Country Park.
Wrexham council is to fund £1.7m, or 30%, towards the costs, with the main source of funding coming from the assembly government - which has already been agreed in principle.