North Wales medical staff help hospitals in Ethiopia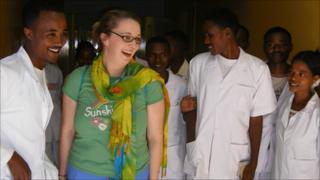 A Conwy nurse has been explaining how she and a team of medical staff from north Wales have been helping hospital in Ethiopia.
Rhian Smith, 33, is a senior staff nurse on the neonatal unit at Ysbyty Glan Clwyd, Bodelwyddan, Denbighshire.
Since the hospital launched a link project with Hossana Hospital in southern Ethiopia in 2005, she has travelled there three times.
She is one of about 10 who flew back to Ethiopia in February.
Ms Smith and three colleagues travelled to Hossana Hospital, while the remainder of the team visited a different region.
She said: "The purpose is not about white man going in to do great things for the poor in Africa. It's very much a two-way link.
"Ethiopian staff come over here, and teach and share experiences and we learn from them.
"We teach and support them as best we can when we're over there.
"Our big project at the moment is that the hospital doesn't really have a water supply.
"It comes into the compound and sometimes there's a running supply on the ground floor, but not on the remaining three floors. They have stand pipes in the compound and water just has to be carried.
"We are supporting the Ethiopians, who are building a water tower in the hospital compound."
During the most recent trip, she helped open two new incinerators at the hospital, which mean "clinical waste is no longer just buried in the ground where it can be picked at by animals or stood on by children".
Ms Smith, who travelled to Ethiopia in 2007 and 2010, said her main aim is to transfer useful skills.
She said: "As part of my job over here I would be attending high-risk deliveries. There are a lot of skills which I use in the UK which are easily transferred to Ethiopia.
"One example that I can use to illustrate why I am involved is when I was first in Ethiopia.
"I attended a caesarian delivery - which is something I would do on a day-to-day basis in Wales - the baby was delivered and was fine.
"Then the surgeon reached into the woman's abdomen and shouted 'There's another.'
"It was an undiagnosed twin pregnancy. This baby was born very floppy and wasn't breathing, and had only a very weak heart beat as the mother had been given a general anaesthetic and so the baby was very anaesthetised.
"The Ethiopian theatre staff said that the baby was dead, but I knew otherwise and after some hard work by myself and a GP from Wales we managed to resuscitate the baby and it was fine.
"This is in no way meant to be a criticism of the Ethiopian staff - they just didn't know better - but the skills that I teach whilst I am there have meant that they can now cope with a situation like this."
She described Ethiopia as an "amazing place", adding: "Every time I go there, I learn something new about myself because you are going into a completely new environment and you are taken away from your home comforts."
Ms Smith said the Welsh Assembly Government directed some time ago that NHS staff taking part in such projects should be given special leave for the trips, and her employers, the Betsi Cadwaladr University Health Board had been "very supportive".