More jobs on their way to Airbus' Flintshire factory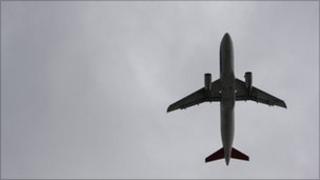 A deal dubbed the biggest single order in commercial aviation history will secure jobs at Airbus' Flintshire factory.
Bosses said it would create many more jobs at the Broughton site.
Indian budget airline IndiGo has signed a deal to buy 180 aircraft, the wings of which will be made at Broughton.
Unions representatives welcomed the news, saying it marks a change in the factory's fortunes as jobs hung in the balance a year ago.
A Broughton factory spokesperson confirmed new jobs would be created but could not say how many at this stage, adding that the posts would be filled when production was "ramped up" later in the year.
A union representative said new posts would be the "icing on the cake".
"Twelve months ago we were fearing that we would have redundancies," said Charlie Gregory, chair of the joint shop stewards council.
"Things have swung one way and the other. At this moment in time we want to keep what we have and get more stability - more jobs would be a bonus."
The order consists of 30 A320s and 150 A320neos, a more fuel-efficient aircraft.
Mr Gregory said the contract meant a lot of work for the factory, which makes 32 sets of wings a month, with four pairs made in China monthly.