Campaigners demonstrate over Wrexham playing field plan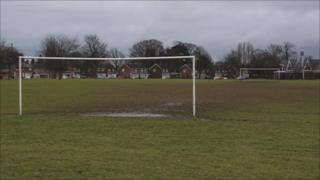 About 100 demonstrators held a protest over a proposed development on a Wrexham playing field on Sunday.
Opponents to plans to build a medical centre in Acton say the field, known locally as the "Spider Park", is the only public playing field serving a community of around 13,000 people.
Acton Community Councillor Lynne Hayes said: "Soon, we won't have any green spaces left."
Wrexham council said the development would benefit the area.
Ms Hayes said it was the third time in six years the council had tried to build there, and accused the local authority of viewing the area as a "building site".
She said the community council nominated the field - which has two football pitches - for Owain Glyndwr (protected) status to be awarded by the county council last year.
She said that shortly before the local authority met to decide on whether to grant the protected status, it submitted a proposal to build a medical centre on part of the land.
She added: "We just couldn't believe it. It's not the first time this has happened.
"We're fighting it tooth and nail."
The council claims the proposed building would improve changing and parking facilities.
However, opponents said the building would be privately-owned, meaning there would no longer be guaranteed public changing facilities and parking.
Ms Hayes said an assessment had found Acton has a deficit of pitch playing fields of 21 acres.
"Yet we have a surplus of informal spaces - bits of land here and there - of six acres," she added.
"Why are they looking at areas with a deficit when they should be looking at places with surpluses?
"We're supposed to be protecting these areas and people are constantly moaning that children don't have anywhere to play and are getting obese.
'Improvements'
"If we haven't got playing fields, there's nowhere for the kids to go.
"Soon we won't have any green spaces left."
Wrexham MP Ian Lucas recently warned Wrexham council that building on green space is a "very emotive issue".
He said: "There are strong voices on all sides when green spaces are built on. Councillors need to be sure they are making the right decisions for the right reasons."
In response, Councillor Alun Jenkins, lead member for finance and asset management, said Mr Lucas was "well aware" such processes were subject to consultation with locals.
He said proposals to relocate the Borras surgery to Spider Park had been the subject of "extensive consultation".
The proposals would "also see the provision of improvements to the changing and parking facilities offered to footballers and their families at weekends and evenings, which will prevent the current situation whereby footballers have to park in surrounding streets and change in their cars".
Mr Jenkins added that the plans would also see "Owain Glyndwr protected status offered to the two football pitches that are widely used by the community".