Police say Shotton Lane Social Club fire is suspicious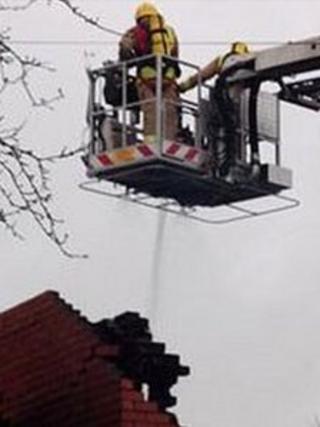 Police investigating a fire at a disused social club in Flintshire are now treating the blaze as suspicious.
The fire at Shotton Lane Social Club, Shotton, forced 100 people from their homes in the early hours of Friday, 4 February.
But the cause is unknown and the building is too unsafe to enter.
North Wales Police said the fire was being treated as suspicious until forensic tests were possible to determine the exact cause.
Flintshire Muslim Cultural Society had an offer accepted to buy the property, which it said it planned to turn into a multi-cultural centre.
Detective chief inspector Graham Talbot, of North Wales Police, said: "The site continues to be secured as a crime scene by police.
"A structural engineer has assessed the building over the weekend and it is unsafe for anyone to enter.
"Once the site is safe to enter further forensic examination will be carried out.
"I am, therefore, unable to establish at this time whether deliberate ignition was the cause.
"However, it is suspected at this stage and the investigation is being treated as such."
Monchab Ali, chairman of the Flintshire Muslim Cultural Society, said the organisation had been in talks with the county council about changing the use of the building.
He said it had been vandalised "a few times before".
There was a march in Shotton on 22 January by the right-wing English Defence League in protest at plans for the club.
Anyone with information about the fire is asked to call North Wales Police on 101, if in Wales, or 0845 6071001 (Welsh line), or 0845 6071002 (English).