Takeaway manager jailed over Wrexham E.coli cases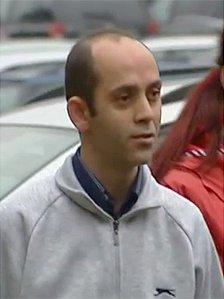 A former Wrexham takeaway operator has been jailed for eight months and banned from running food businesses after admitting hygiene offences which led to an E. coli outbreak.
Ramazan Aslan, 35, of Ellesmere Port, Cheshire, former operator of Llay Fish Bar, will be released on licence after serving half his sentence.
Aslan was told by a judge at Mold Crown Court he chose to ignore hygiene risks.
More than five people became ill in the outbreak in 2009.
Librarian Karen Morrisroe, 33, spent three months in hospital, where she also picked up the super bug MRSA.
In a victim statement, Ms Morrisroe said her illness had resulted in "unbearable stomach pains", being severely dehydrated, suffering kidney failure and a small seizure.
Judge Mr Justice Griffith Williams told Aslan: "While I accept there was no malicious intent, the only explanation is that you were wholly indifferent to the need for thorough food hygiene and for the health and safety of your customers.
"You knew of, and were given ample warnings, of the need to take all necessary steps to avoid the clear and foreseeable risk of contamination from raw meat and so you knew the risks; you chose to ignore them."
The court heard Aslan had ignored previous warnings, which would have cost little to put right.
The judge said serious concerns had been raised by Wrexham council in August 2008 and again in November 2008 when a customer complained of food poisoning.
The same month another customer complained of a moth on kebab meat and again further advice was given.
However, the evidence "demonstrates that you ignored all these concerns. I regard that as a seriously aggravating factor," said the judge.
"Had you addressed them there would not have been the conditions which led to this outbreak of E. coli."
Aslan admitted six food hygiene offences at an earlier hearing.
Prosecutor Anthony Vines said there were five primary cases of E. coli which could be linked to the takeaway, although some victims had gone on to contaminate members of their families in so-called secondary infections.
Council officers discovered pizza toppings at the takeaway with flies on, a lack of hand-washing materials, and cloths in hand basins which were also put over frozen kebabs.
The court heard that after the outbreak, council officials soon discovered the common link in all the cases was Llay Fish Bar - now under new management - although Mr Aslan was "sceptical" the takeaway was at fault.
He admitted that in July 2009 he failed to protect food in that cooked and ready-to-eat food was not protected at all stages of production, processing and distribution, against contamination, likely to render the food unfit for human consumption.
He failed to notify the council that he had become the food business operator at the fish bar in Llay, and failed to put in place permanent procedures to identify hazards or corrective actions, failed to ensure that his food management procedures were up to date, and failed to have adequate pest control procedures.
He also admitted that being responsible for the development of a food safety management procedure at the premises, he had received inadequate training.
Wrexham council, which assisted in the investigation, welcomed the sentence.
Chief housing and public protection officer Andy Lewis said: "Those businesses that choose to operate in the food industry have a duty to maintain acceptable standards."