Plan agreed to extend Clwydian Range AONB to Llangollen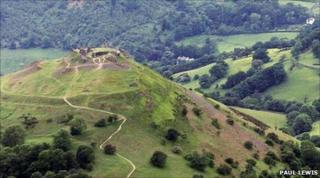 Countryside officials are pushing forward with plans to recognise Llangollen and the Dee Valley as areas of "outstanding natural beauty".
The Countryside Council for Wales (CCW) wants to extend the Clwydian Range Area of Outstanding Natural Beauty (AONB).
The proposal would incorporate rural Wrexham and Denbighshire communities.
The CCW met on Monday and agreed to begin the next phase of the process before an assembly minister makes the final decision which could be in March.
Members also agreed to consider a proposal by residents that Ceiriog Valley and Berwyn should also be included in the extended area.
In partnership with Denbighshire and Wrexham councils, CCW has already consulted on plans to extend the area to cover southern parts of the Clwydian Range, the Vale of Llangollen and parts of Wrexham and the Dee Valley.
Currently, the landscape of the Clwydian Range stretches 160 sq km (100 sq m) from the Vale of Clwyd in the west to the foothills of the Dee estuary to the east, and from Prestatyn hillside in the north to the Nant y Garth pass in the south.
CCW is looking to incorporate Wrexham communities Esclusham and Ruabon as well as Llantysilio Mountains, the Vale of Llangollen and the Dee Valley as far as Corwen and just north of Glyn Ceiriog.
It says the proposed extended area is of "outstanding quality, nationally and internationally important for their natural beauty and equally worthy of protection as an AONB".
Sheep farmer Rhys Hughes, from Pentredwr, near Llangollen's Horseshoe Pass, said the area already has enough labels and protection which can impose restrictions on people living and running businesses in them.
"There is no need to bring in another label, another branding. I'm not sure it would make that much difference," he said.
But businesswoman Stephanie Booth, who owns hotels in the Llangollen area, said: "It will promote and encourage tourism and also make sure that any development is sympathetic to the countryside."
CCW regional director Tim Jones described the proposed AONB as a "good badge for some of the businesses to have within the area".
He said status attracts funding such as the assembly's sustainable development fund.
"The label's there to say well look, this is fantastic, it is important and of national interest," he told BBC Radio Wales' Country Focus.
At the close of a four-month consultation period in January, the CCW received 314 responses with some people concerned that the status may impose new regulations on landowners which the CCW denies.
"AONB designation does not interfere with land management practices and designation does not bring about new restrictions on agricultural activities," says the proposal document
The CCW meeting agreed to produce a draft designation order - outlining the proposals formally - which is advertised locally.
Following another five weeks when views can be received, CCW then sends that order to the assembly government for a decision by Environment Minister Jane Davidson.