Cilcain and Ffynnongroyw villagers unite to grow food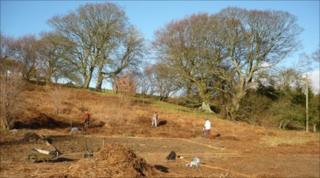 Villagers are uniting to manage community land share projects to grow and rear their own food in Flintshire.
People in Cilcain and Ffynnongroyw are managing plots of up to three acres and are preparing the land.
They have been given permission to use the land by local landowners.
They manage the plots themselves as members of a group called Flintshare, one of several "community supported agriculture" (CSA) schemes being run in the UK.
In Flintshire, council statistics for allotment plots show 150 people are on a waiting list, hoping for one of 67 plots to become available on local authority-run sites.
Flintshare founder member Nikki Giles said the the group was attracting volunteer gardeners from outside the two villages.
So much so that Flintshare is looking for more land in places like Hawarden, Flint and Connah's Quay, while plans are already under way to run a third site in Northop.
The long-term idea is for local people to run each of the Flintshare sites, said Mrs Giles, from Llanferres.
She is a organic horticulturist who runs vegetable growing courses at Caffi Florence, Loggerheads Country Park.
"Cilcain is a beautiful site," she said. "It's operating like a community garden.
"We want to get it growing veg as quick as possible."
The Cilcain group is holding a series of work days on 19 and 26 February, 1000-1400 GMT to get the three-acre site ready for planting.
The Ffynnongroyw site is under an acre and, as the land is said to be boggy, the plans are to keep chickens and bees, although raised planting areas could be built in the future.
A public meeting is being planned at Cilcain Village Hall, 5 March, 1300 GMT to discuss more about the work of the volunteer-run CSA scheme in Flintshire and possibilities of running more sites.