How Wales continues to count the cost of asbestos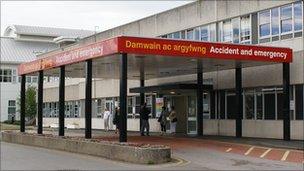 As a £5.7m scheme is announced to remove asbestos from Ysbyty Glan Clwyd in Denbighshire, BBC Radio Wales' Eye on Wales examines the financial and human cost of tackling the problem.
Ysbyty Glan Clwyd at Bodelwyddan is just one of half a million public and commercial buildings in the UK which still contain asbestos.
While the health risks posed by asbestos were recognised as early as the beginning of the last century, a total ban on its use only came into force in 1999.
Twelve years on both the cost in both financial and personal terms continues to mount.
Currently cancers caused by historical asbestos exposure kill more people every year than road deaths. The cancers can take 30 or 40 years to develop.
The numbers have been rising for decades and are expected to peak in the next five to 10 years.
Paul Lewis, 67, from St Athan, Vale of Glamorgan, worked as a heating and ventilation engineer most of his life. When he started his career, he worked a lot with asbestos which was widely used at the time for insulation and fireproofing.
"We were removing it from the pipework, the big hot water cylinders by just knocking if off with a hammer or using a hacksaw or any tool that you could get hold of to just get if off the appliances we were working on," he said.
"It made a lot of dust. We did used to wear very limited masks, but I don't think they were right for doing the job that we were doing."
At Christmas he was told he had mesothelioma, an incurable cancer of the lining of the lung caused by asbestos exposure.
Mesothelioma sufferers often do not survive longer than a year, a prognosis that two Welsh patients a week are currently receiving.
Rosalind Andrews' husband Graham worked with asbestos at the former GEC electronics factory at Hirwaun near his home in Cwmdare in the Cynon Valley.
When he was diagnosed with mesothelioma in 2008 both he and Rosalind struggled to come to terms with what they had been told.
"It was very hard, we just couldn't believe it, what was happening. Graham seemed to accept it towards the end, I just had to get on with it, looking after him."
"Graham was a big man - 18 stone - and he went down to nothing. He had pneumonia and then he was sort of in a coma for five or six days. It was very, very sad."
Like many who are diagnosed with mesothelioma, the couple contacted the Cardiff-based cancer charity Tenovus for support.
It helped a growing number of people with mesothelioma last year and expects the numbers to rise still further this year now that the helpline operated by its cancer support team has taken on more staff and now covers the whole of Wales.
Sue Elford, who manages the cancer support team, said: "They've heard news that they were not expecting to hear - particularly when they've been told that this is something that has been affecting them, but only just come to light, from over 20, 30, 40 years ago."
"They are very concerned about a whole raft of things: financial - how are they going to manage; emotional; sometimes the things they want are very practical. And sadly we have to act on these very, very quickly."
While mesothelioma and asbestos-related lung cancers used to be most common among those who worked in shipyards or in power stations, the ban on its use now means that it is tradesmen who are now most at risk.
The Health and Safety Executive estimates that eight joiners, four plumbers and six electricians may die each week from the effects of asbestos.
For the last three years it has been running a Hidden Killer campaign to educate tradesmen of the dangers of asbestos.
Sarah Mallagh from the HSE's asbestos unit, said: "This has been a multi-media approach targeting tradesmen, raising their awareness that there is the legacy, that asbestos is still in buildings and alerting them to the fact that they need to get appropriate training."
"Also to the fact that people that manage or are in control of the maintenance of buildings have duties to identify where there might be asbestos and provide that information to anyone that comes into the building to carry out work."
Eye on Wales is on BBC Radio Wales on Sunday, 20 February at 1300 GMT.
Related Internet Links
The BBC is not responsible for the content of external sites.