Wrexham's last day for consultation on city status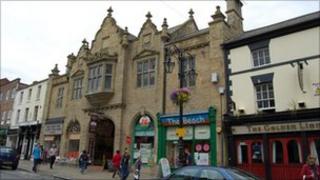 People in Wrexham have until the end of Monday to say whether they are or are not in favour of the town bidding for city status once more.
Wrexham has launched three previous attempts to become a city, with the last in 2002, when it lost to Newport.
The nearby cathedral town of St Asaph, Denbighshire, which also tried in 2002, is to bid again.
City status is available for one town in the UK in celebration of the Queen's Diamond Jubilee in 2012.
While the consultation on whether Wrexham should try and land the award closes on 28 February, the council has yet to formally throw its hat in the ring.
Council leader Aled Roberts said: "Before any bid for city status is put forward for consideration it is essential we have the support of the local community.
"We are now encouraging as many of you as possible to let us know whether or not Wrexham council should put forward such a bid."
The results of the consultation exercise go before Wrexham's council's executive board on 8 March for decision on whether or not to press ahead with a city status bid.
Four of the five existing Welsh cities - Newport, Cardiff, Swansea and the small cathedral city St David's - are in the south.
Bangor is the only one in the north.
On its website, St Asaph City Times, St Asaph Town Council said its bid aimed to ensure the town landed the "quiet, dignified recognition of what has long been seen as its right".
It stated: "St Asaph Town Council has no intention of seeking anything other than the official recognition of its status as a cathedral city and its rightful place among other diocesan centres in Wale - all of which have their cathedral towns designated as cities."
The Bishop of St Asaph, The Right Reverend Dr Gregory Cameron, has called for his cathedral town to be chosen.
Local authorities have until June to submit their entries, which will then be considered by the UK government before recommendations are submitted to the Queen. The results will be announced in 2012.