Family's 70 years at Flintshire post office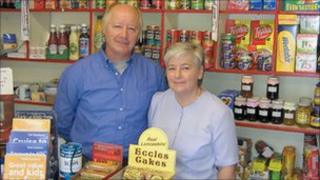 A Flintshire postmistress is celebrating more than 70 years of service by her family in Llanfynydd post office.
Ruth Jones was presented with an award recognising her family's long service by the high sheriff of Clwyd, Lady Janet Jones.
She took over the running of the post office from her aunt, Martha James, following her retirement.
Before that the post office was run by Mrs Jones's mother, Dora.
The family's association with the post office began in 1929, when Mrs Jones senior began working with the then-postmaster, Mr Hurst.
Mr Hurst died in 1942 and Dora Jones became the village postmistress.
Ruth Jones began helping out in the post office at the age of 12 following her father's death and eventually became postmistress herself.
"I carried it on and it is a pleasure to serve the community," she said.
"I was born here so it's part of my life."
Mrs Jones feels the village post office fulfils many functions:
"I think we provide a very valuable service, not just as a post office but as an information point as well," she said.
"We've met lots of people from all over the place and been able to help with their family trees - you meet all sorts of people.
"It's nice to help people - that comes from my mother who taught us," Mrs Jones said.
But Mrs Jones, who runs the post office with her husband, Tom, is not sure how long the post office will continue to be a feature of the village.
The couple have two grown-up children but neither of them is interested in taking over.
"Who knows what the future will hold but we plan to carry on as long as we can," Mrs Jones said.
"I hope the post office will continue.
"There are many people like us who are not in it for the money but to provide a service to the community.
"A village without its shop and post office loses an awful lot," she said.