Bangor-on-Dee races re-start after flooding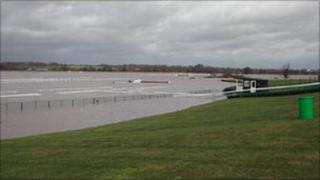 Racing is to resume on Wednesday at Bangor-on-Dee racecourse for the first time since flooding disruption.
Heavy rain in early February meant that the ground was completely flooded and lost some of its steeplechase jumps.
"The biggest problem was that it happened so quickly," said general manager Jeannie Chantler.
"We went from no water to seven feet in, I would say, about five hours and for the first time anyone remembers the water came over the riverbank."
A big clean-up operation has taken place since the flooding happened to get the track ready for tomorrow's racing.
"We lost the running rail which runs round the outside of the racecourse, all three miles of it," Ms Chantler said.
"Because it's lightweight so as not to injure the horses if they run into it a lot of it floated down the river.
"We got some of it back - local farmers picked some of it up and brought it back - but we also had to buy new areas."
Silt had to be removed from the ground and logs, branches and rubbish left on the track had to be cleared.
"Being a mile and a half round it's quite a large space," Ms Chantler said.
Despite the loss of a meeting, which Ms Chantler described as "a blow", there are advantages to being by the river.
"The plus is being by the river enables us to race in the summer as we have a licence to pump water from the river onto the track to keep it safe for the horses," said Ms Chantler.
"So there are benefits to being by the river too."
Ms Chantler said they were "delighted" to be able to race again.
"The ground staff have worked extremely hard over the last three weeks to enable us to race," she said.
"Hopefully it will be a nice day's racing and the weather looks like it's going to be kind to us."