Soccer star Robbie Savage at Wrexham dementia launch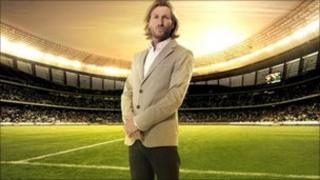 For footballer Robbie Savage, the issue of dementia is highly personal.
The Derby County and former Wales international will attend the launch in his home town, Wrexham, of a UK study into diagnosis of dementia.
His father, Colin, has dementia, and the player speaks passionately of its effects.
"It's soul destroying to see the man I idolise fighting such a cruel disease," he said, ahead of the launch of Mapping the Dementia Gap.
The Alzheimer's Society wants to improve diagnosis across the UK and boost access to treatment as a result.
The study is being released with Tesco to mark the launch of the Charity of the Year partnership with Alzheimer's Society and Alzheimer's Scotland.
A formal diagnosis of dementia is vital for people to gain access to treatment and services.
In Wales, the study found the rate of diagnosis in the area covered by the Betsi Cadwaladr University Health Board was just 29%, one of the lowest in the UK.
Overall the study found the the figure for people in Wales getting a diagnosis was 36%.
"The UK is in the bottom third of Europe when it comes to diagnosis," a spokesperson for the Alzheimer's Society said.
"We need to help people understand it's a physical condition of the brain," she added, speaking of the need to counter the stigma which still attaches to the condition.
Also attending the launch event will be Vince Kift, 66, who cared for his wife Jane.
"One of the most important things we need to do is to raise awareness of dementia and let people know they don't have to go through it alone," he said.
"This partnership between Alzheimer's Society and Tesco is a great opportunity to do this and will hopefully encourage people who are concerned about their memory to go to their GP and get a diagnosis so they can access the support and treatment they need."
The launch will take place at Tesco's store in Crescent Road, Wrexham, at 1200 GMT on Thursday 3 March.