Potential Wrexham buyer Stephanie Booth's fans' rally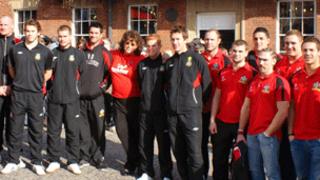 One of the potential buyers of Wrexham Football Club has staged a "rally" to try to drum up support for her bid.
Stephanie Booth asked fans to Wrexham's Wynnstay Arms Hotel, which she owns.
The businesswoman has said her plans for a community-led purchase of the club offer it the best possible future.
However, Wrexham Supporters' Trust (WST) which plans to table a "seven-figure" bid for the club, will meet its owners on Wednesday.
WST said the meeting followed "weeks of hard work and lobbying" involving trust meetings with Wrexham Council, the assembly government and local AMs and MPs to share its "vision for a community-owned football club and ground, run for and on behalf of the local community".
It added: "We have a crucial meeting planned with Wrexham Village next Wednesday but in the meantime ask anyone with the best interests of Wrexham Football Club at heart to back the WST."
Last week, WST met Ms Booth and Wrexham councillor Phil Wynn, who had been hoping to form a consortium to buy the club.
Following that meeting, a posting by Stephanie Booth on a Facebook site said: "Sad to say the WST have decided against everyone else's advice to pursue their own bid independently."
Crowds gathered near the Wynnstay Arms Hotel, but it was not clear how many were there to see Ms Booth or Wrexham's St David's Day parade, which took place minutes after she posed for pictures with Wrexham FC players and Celtic Crusaders players.
She said Wrexham FC's new owners would be revealed on Saturday.
She said: "We presented our bid yesterday and we went in this morning to answer questions.
"The Supporters' Trust will be going in tomorrow.
"A sealed envelope will be opened before kick-off at the Racecourse on Saturday, when an announcement will be made."