Flintshire death crash 'occurred after steering fault'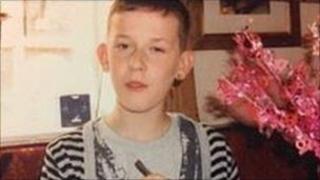 A mother charged with causing the death of her son by careless driving has said her car's steering started juddering before the crash.
Karen Evans, 36, of Mancot, Flintshire, said she made a last-minute decision while on the A55 at Northop Hall to turn to safety down a slip road.
The car clipped the side and her son Jordan, 11, was declared dead at the scene, Mold Crown Court heard .
Mrs Evans denies causing death by careless driving. The trial continues.
The jury heard that Mrs Evans was taking Jordan to school on the morning of 29 April last year.
She was in the driving seat of her Corsa, her daughter Levi, 18, was in the front passenger seat, and Jordan, who had autism, was in the back with his sister Lilly May, 3.
Mrs Evans denied that she was speeding or driving erratically before the crash.
When questioned, she denied a witness estimate of her speed at 80mph and said she was travelling at 65-70mph when the car started to judder.
The jury heard that in a police interview Mrs Evans said she came up behind a vehicle and pulled out to overtake when there was a movement "like one big swerve".
Jordan started panicking, the court heard, and was asking what was going on, and Mrs Evans said she told him: "It's OK, I am just going to get the car off the road."
Mrs Evans said she was scared of hitting the barrier, it was getting harder to keep hold of the steering wheel and she then saw the slip road coming up.
She said she made a split second decision to get up there to give her more time to slow down and get the car under control.
The court had previously heard how the car had somersaulted on an embankment and ended up back on its wheels.
Broken back
The prosecution claim it was human error that caused the crash.
However the defence say that Mrs Evans was faced with a mechanical emergency and tried to get off the A55 dual carriageway.
"The steering was just so hard to turn," Mrs Evans said. "I remember going up in the air. The next thing I remember is waking up and Levi screaming."
The jury heard how Jordan died of a head injury.
Mrs Evans broke her back in two places, six ribs were broken, she had a broken collar bone and a punctured lung, and she received stitches to a head wound.
Lilly May had a broken left leg, a broken vertebrae in her back and a punctured lung, and Levi had stitches to her hand, head and feet.
Mrs Evans denied that she had suddenly decided to drive down the slip road, leaving it too late, because she realised she had no fuel. She had not seen the fuel light on, she said.
While she was late that morning, she was not in that much of a hurry. "I was already late," she said.
"I went across the road to get off the carriageway to safety. I didn't realise it was going to kill my son," she said in the interview.