Flintshire death crash mother recalls 'steering fault'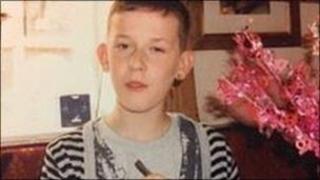 A Flintshire woman accused of causing the death of her son by careless driving has told a jury she was forced to take emergency action because of a fault with her car's steering.
Karen Evans, 36, from Mancot, cried as she gave evidence and said she had to leave the A55 quickly before she killed "all my children or somebody else's".
Her son Jordan, 11, died after their Vauxhall car somersaulted off the road.
Ms Evans denies the charge. The trial continues at Mold Crown Court.
She described how she was in the outside lane of the westbound A55 when she felt the steering wheel of her Vauxhall Corsa begin moving from left to right.
She told the jury she saw the entrance to the Northop service area and tried to move across the traffic to leave the carriageway.
The court has previously heard that her two daughters, Levi, 18 and Lilly May, three, were in the car as well as Jordan.
On Wednesday, she told the jury: "I just knew if I got the car off I wouldn't hit the central reservation or the other cars, killing all my children or somebody else's."
Late for school
Mrs Evans accepted her daughter was late for college on the day of the crash, 29 April, 2010, and that Jordan was late for school.
However, during her 20 minutes of evidence she denied she had been rushing and said she was unaware the petrol light had been on.
Her attempt to get into the service station was not a last minute decision to get fuel, she said - as the prosecution has claimed.
Asked by her defence counsel if she was inflating the problem with the steering wheel to save her neck, Mrs Evans said: "No."
The jury also heard from Mrs Evans's daughter Levi, who said she had no concerns about her mother's driving that day.
She had been putting a CD in the car stereo when the vehicle started veering left to right, then shaking.
She added: "I looked up and asked my mum what was going on with the car.
"She was in a panic. She said it was not her. That was when I started to panic.
"She then turned the car and tried to get in to a slip road but we missed.
"We hit the embankment head on. The car flipped and it then landed on its wheels."