Wrexham fans' board member quits over 'shabby campaign'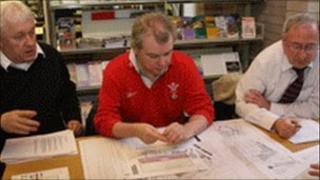 A board member of the Wrexham Supporters' Trust (WST) has resigned over what he calls a "shabby and co-ordinated campaign" to discredit him.
WST said Lindsay Jones was under "intolerable pressure" and he feared he was being set up as the "fall guy" if attempts to buy the club failed.
On Wednesday, WST was meeting club owner Geoff Moss to discuss a bid for Wrexham.
Businesswoman Stephanie Booth has submitted a rival bid.
WST are meeting Wrexham council officials and club owner Geoff Moss to discuss their plans to create a "community club".
WST is considering submitting a seven-figure bid to buy Wrexham FC, along with the Racecourse ground and the Colliers' Park training ground.
However, the trust says no bid will be made until it has scrutinised the club's books.
Rival bidder Stephanie Booth has claimed an announcement about the club's future will be made before kick-off at Saturday's home game.
Last week, both bidders held talks over a possible joint venture, but failed to agree.
WST board member Mr Jones, who attended the meeting, said he has since been subjected to "intolerable pressure", and resigned on Tuesday.
He wrote: "The events of the past few days have made my presence central to the story of the WST bid and this is not a place that I feel comfortable in.
"The future of the club is the thing and not the nature of the various personalities involved.
"It has caused distress to my family and it is also clear to me that this shabby and co-ordinated campaign to discredit me will not end.
"My resignation makes it easier for me to deal with this nonsense.
"It is also crystal clear that I am being lined up as the fall guy for any subsequent withdrawal of rival bids to buy the club or a rejection of the excellent WST bid to purchase the club.
"I have to protect my family from this possibility."
'Selfless'
Mr Jones said he remained proud of many of his achievements with the trust, which he said "must play a part in the future of our club".
In response, the WST board thanked "one of its longest serving and dedicated servants" for the "many years of hard work he has selflessly put into Wrexham FC and Wrexham Supporters' Trust".
A Wrexham council spokeswoman was unable to confirm its involvement in Wednesday's meeting.
But in a statement she said a confidential report would be presented to members of the council's executive board next Tuesday.
The meeting would be in private, she said, because the report " contains considerable data about the affairs of the companies involved".
The spokeswoman added: "The council's position remains that we are concerned that the Racecourse Stadium is able to continue as the major international sporting venue for north Wales and from that position the council is endeavouring to aid discussions between the relevant parties who have a present or future interest in the stadium and football club."