2013 National Eisteddfod to be held in Denbigh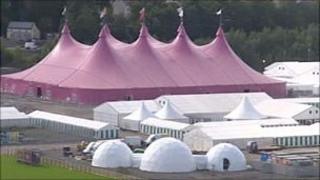 The 2013 National Eisteddfod is to be held in Denbigh, organisers have announced.
The annual festival - which rotates between venues in north and south Wales - will return to Kilford Farm, where it was held in 2001.
Eisteddfod chief executive Elfed Roberts said local people had "been eager to host the eisteddfod for a while".
Denbighshire council said it was "delighted" at the news.
This year, the eisteddfod will be held in Wrexham, coinciding with a "year of culture" in the town.
In 2012, the festival will head south to the Vale of Glamorgan.
Mr Roberts said: "We are delighted to announce that we will be visiting Denbigh in two years time, and are looking forward to holding the festival on Kilford Farm.
"It is an excellent site and was very popular with our visitors in 2001."
He added: "The preparations will begin soon and we will call a public meeting before Easter to gather the support of people across the county."
Denbighshire council leader Hugh Evans said: "The council is delighted that the eisteddfod is coming back to Denbighshire.
"It's an excellent opportunity for us to promote and market our county to a national audience and we will look forward to welcoming people from across Wales to sample what is on offer here."