Booth says Ashley Ward set for Wrexham FC takeover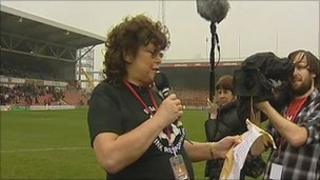 Wrexham businesswoman Stephanie Booth says she is no longer in the running to takeover the town's football club.
Her comments come after it emerged former footballer Ashley Ward, who started his career at Wrexham FC, is also in talks to buy the club.
Local hotelier Ms Booth had told fans before Saturday's game that she was the "preferred bidder" - but Mr Ward has since claimed that is not the case.
The club has been asked to comment.
"Last Saturday they chose me and now they have apparently chosen Ashley Ward," she said.
"Don't feel sorry for me, but for the people of Wrexham and the fans of Wrexham Football Club, I think it's a disaster."
Ms Booth said she met with Dean Saunders and some of the players on Tuesday as well as ground staff to spell out her plans for a community-owned venture at the club.
Earlier in the week, the Wrexham Supporters Trust (WST) said it would be willing to join the £5m bid being put forward by Ms Booth.
"Everybody was on board and everybody was enthusiastic and we had done an awful lot and that's been swept away in one statement," said Ms Booth, referring to Mr Ward's comments on the Wrexham FC website.
That statement said he had held "positive preliminary talks" about a takeover at the Racecourse ground.
Mr Ward states on the club's website that: "I have also had it confirmed to me, by the current owners, that none of the other interested parties have a preferred bidder status."
He said his legal representatives were now examining the club's financial status as part of a bidding process.
"I anticipate being in a position to make a formal announcement shortly," he said.
The former striker, 40, whose clubs include Blackburn Rovers, Derby County and Norwich City, said he had also held talks with the Wrexham Supporters Trust and the local council.
"We believe that each of these parties are instrumental to the future success of the club," he said.
But, the WST said they had not been impressed with the proposals tabled at the meeting with the "Ashley Ward consortium".
"Their high level proposals did not excite us," they said in a statement on their own website
Club owners Geoff Moss and Ian Roberts have already gone on the record stating that they would prefer the team to go to a fan-based buyout.
The club has been asked to comment.