£4.3m Rhyl harbour bridge last link in cycle path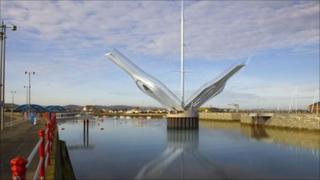 A new £4.3m foot and cycle path will go ahead across Rhyl's harbour.
After planners in Denbighshire backed the project, it will provide the final link in 15 miles (24km) of traffic-free cycling across Conwy and Denbighshire.
Boat users say the new bridge could leave them stranded outside the harbour if its raising mechanisms fail.
But officials say they have secured funding for a new safe mooring on the approach to the harbour, in the event the new bridge cannot be opened.
The proposed bridge crosses the harbour seaward of the Blue Bridge at the Foryd Harbour.
The Blue Bridge is currently the only gap on the cycle route and cyclists have to dismount to cross over the water.
The council says that even this leaves little room to pass pedestrians.
The vote on Wednesday in favour of the proposals was passed with 18 councillors in favour, one against and with one abstention.