Flintshire council overpaid housing benefits by £235k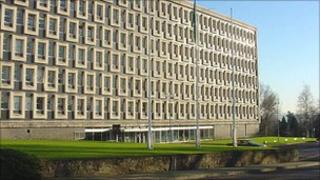 Flintshire council is due to discuss serious "weaknesses" in its housing benefit system which led to overpayments of more than £235,000.
The council also faces a possible bill of nearly £400,000 to the Department of Work and Pensions (DWP) following an over-claim of subsidies.
The failings were highlighted in a report by the Wales Audit Office (WAO).
The authority said "urgent action" had been taken, and most of the WAO's recommendations were implemented.
Kerry Feather, Flintshire Council's head of finance, said: "The reports from the Wales Audit Office identify a number of weaknesses in relation to the administration of housing and council tax benefits during 2008/09 and 2009/10.
"The findings of the WAO are being taken very seriously and urgent action is being taken."
Payment of benefit
She said most of the recommendations had been implemented and a detailed report and response was being discussed by the audit committee on Thursday.
"The reduction of the subsidy from the DWP of £235,000 will not impact on the 2011/12 budget as the council holds a specific reserve set up to cater for variations in subsidy levels," she said.
"Officers are in discussion with DWP about a separate issue of clawback of up to £397,000 which has not been agreed and which could reduce to £40,000 depending on the outcome of the discussion. DWP will consider each case on its merit."
Ms Feather said entitlements or payment of benefit to people would not be affected.
"Overpayments to customers during 2008/9 and 2009/10 have already been followed up and recovered where possible," she added.
"There is no intention to re-visit the overpayments for 08/09 or 09/10."
A report before councillors recommends "that there are regular performance and improvement reports that are submitted to audit committee and/or corporate resources scrutiny committee as appropriate".