Corwen Pavilion demolition halted by court order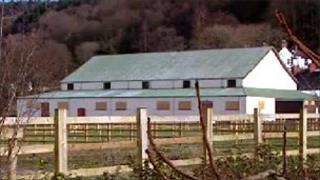 A group which obtained a court order to halt plans to demolish a Denbighshire community centre say the building should be saved.
Campaigners secured an interim injunction just days before Corwen Pavilion was due to be flattened.
Denbighshire council said it was considering how to respond to the injunction granted on Friday.
The group, Save the Pavilion, wants the building reopened after it closed last year amid health and safety concerns.
One member, Esmor Davies, said the group had, so far, raised between £60,000 and £70,000 towards costs to restore and reopen the pavilion.
And, while Denbighshire council had previously said the 99-year-old building would cost £2m to £3m to replace, the group had quotes for under £500,000 to carry out repairs, said Mr Davies, a builder.
Ownership
The authority confirmed demolition work could not now be carried out before a "proper hearing".
In a statement it said the court order said that it may apply at any time to vary or discharge the order.
But, while considering its options and identifying how to respond to the injunction, it said its position on the pavilion remained unchanged.
Last month, while announcing the demolition was due to start, the council called for residents to take over the site and form a group to build a new community centre.
It wants to transfer site ownership to residents and help them to find funds for a new building.
The pavilion was closed last March after asbestos was discovered.