Decision deferred on Wrexham political campaigning ban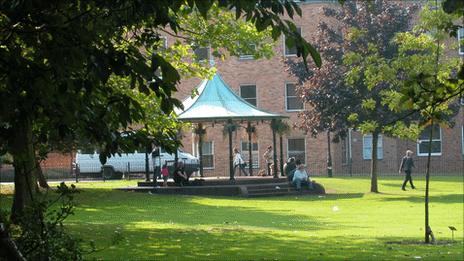 A decision on plans to ban political campaigning in areas of Wrexham town centre has been deferred.
Wrexham councillors said more clarity is needed on the public rights of way before a decision can be reached.
Wrexham MP Ian Lucas had criticised the council's plan as "outrageous".
If backed there would be no "activities or events held to promote parties, groups, organisations or individuals for political purposes" at Queens Square or Llwyn Isaf.
Labour MP Lucas said the plans were a "profound embarrassment" to Wrexham.
Neither the Lib Dems, Plaid Cymru nor the Conservatives back the proposals.
Wrexham council reviewed its protocol for events in the town centre after the English and Welsh Defence Leagues indicated two years ago that they planned to hold marches there.
The report discussed on Wednesday said: "During 2009 when the English and Welsh Defence League indicated that it was planning to march into Wrexham, the emergency planning team requested that the protocol should be reviewed in order to ensure that any future political events may be robustly denied access to Queens Square and Llwyn Isaf."
The report added: "The chief legal and democratic services officer believes that the protocol should be amended to include a clause that strengthens the council's position by stating that 'no activities or events can be held to promote parties, groups, organisations or individuals for political purposes or for canvassing.'"
Mr Lucas said: "In a democracy, freedom of speech to argue one's case is fundamental.
"Limitation of this right should only be considered in extreme circumstances.
"For a council sub-committee to take this step, and to do so without public debate, is outrageous."
He said he also doubted whether the move was lawful.
Aled Roberts, leader of Wrexham council, and the Liberal Democrat candidate for north Wales in the 5 May assembly election, said he was strongly of the view that political activity should be encouraged and supported in public places.
He said the proposal was recommended by officers to the council's executive board in February.
"It is precisely because we were unhappy with the proposal that we asked the scrutiny committee to look at it again to make sure that the right to free protest and political debate is ensured."
John Marek, Conservative assembly candidate for Wrexham, said, "It is only right that election candidates wishing to speak to voters and campaign within the law, should be entitled to do so.
He said it was "unfortunate that council officers are considering these powers, which could negatively impact on voter turnout".
"I hope that councillors will defend the democratic process and the right of voters to exercise their democratic choice."
Plaid Cymru candidate for Wrexham, Coun Marc Jones, who sits on the corporate governance and policy scrutiny committee discussing the plan, said: "It would be appalling for the council to try and ban democratic, political meetings.
"Political parties have been meeting in the town for decades without this kind of heavy handed treatment and I will be firmly opposing the proposal to stop this tomorrow."
The English Defence League was a "red herring to ban legitimate political processes and that must not be allowed," he added.
Labour's assembly candidate for Wrexham, Lesley Griffiths, said: "I am surprised such a move comes from a Liberal Democrat council.
"Liberals are supposed to uphold individual liberties and this flies in the face of their very own principles."
She added: "Questions must also be asked also as to why a Lib Dem council is seeking to make such a move during the immediate run up to an assembly election."
Related Internet Links
The BBC is not responsible for the content of external sites.