A55 roadworks beyond a joke, says North Wales Tourism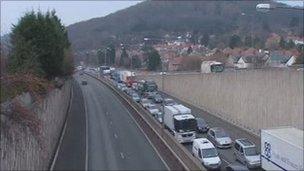 Tourism officials have complained to the Welsh Assembly Government that the frequency of roadworks on the A55 in north Wales is "beyond a joke".
They say visitors are complaining about long delays and tailbacks caused by roads maintenance.
Hoteliers say they are worried tourists will be put off from visiting the region if the problems continue.
The assembly government has told North Wales Tourism it plans best times to conduct work outside holiday periods.
But chairman Chris Jackson is calling for a review of the maintenance programme, saying they are currently occurring with too much frequency.
"We are extremely concerned," he said. "It's getting beyond a joke.
"Tourism operators are getting genuinely angry."
North Wales Tourism managing director Ester Roberts said the issue was raised with Transport Minister Ieuan Wyn Jones due to the number of complaints hotels were receiving from customers.
She said while tourism businesses understood road works had to be carried out, it was felt work was permanently on-going with regular delays on Friday evenings and over the weekend.
In a letter, the assembly government has replied to North Wales Tourism explaining that it plans maintenance in advance to minimise disruptions.
Public notices have just been issued outlining the maintenance schedule for the next 12 months, which shows work stretching from Bangor in Gwynedd to the Flintshire-Cheshire border at Dobshill and which will be conducted as part of a rolling programme.
Related Internet Links
The BBC is not responsible for the content of external sites.