Flintshire coastal path trees 'butchered'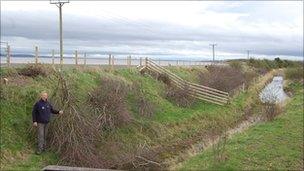 Vandals have "butchered" more than 60 trees on a north Wales coastal path, say countryside rangers who have worked for two years to preserve the area.
The hawthorn trees, were found hacked to pieces between Greenfield and Bagillt in Flintshire, leaving a clean-up bill of £1,000.
Ranger Mike Taylor said: "No logs have been taken for firewood, this was simply vandalism."
The trees provided shelter for walkers and potential nesting sites for birds.
"Someone has butchered them back," said Mr Taylor, who works for Flintshire council.
"No official organisation that we work with has gone down there and there have been no accidents with our team.
"It is upsetting because we have worked so hard to retain them."
He said some of the trees had lined the pathway for 20 years and had grown up to 9ft (2.7m) tall.
"We might get a lot of growth from the stumps if we are lucky," said Mr Taylor.
"But it is quite damaging - the trees could take around seven years to grow back. It is very upsetting."
The matter has not yet been referred to police, he added, but the Countryside Council for Wales was looking into it.
Related Internet Links
The BBC is not responsible for the content of external sites.